The four electric vehicle standards took the lead in the public car companies to "dock"
With the announcement of the new energy vehicle development rules at the end of the month, the first four electric vehicle industries will be quietly announced. The car companies are rushing to meet the new standards, and formulate production and sales plans based on subsidies. In the context of the country's strong support for the development of the new energy industry, the projection of the Chinese automobile industry's cornering overtaking the world is the back.

Or for the individual a€?double subsidya€? for the enterprise

The a€?New Energy Vehicle Promotion Rulesa€?, which was scheduled to be released at the end of the month, has been circulated in the market. The national version of the new energy vehicle subsidy standard is likely to a€?not only subsidize the terminal individual consumersa€?, in order to reduce costs and improve the R&D ratio, the final subsidy The plan may be a€?double subsidies for individual businessesa€?. This means that for every new energy vehicle sold, the state will spend two subsidies, which is not too big.

A widely subsidized version of the market is that the government will separately formulate subsidies for a€?energy-saving cars and new energy vehiclesa€?. For hybrid vehicles that cannot be externally charged, the policy will be classified as a€?energy-saving vehiclesa€?, and the subsidy amount will be unified to 3,000 yuan. For the "plug-in electric vehicle" and "pure electric vehicle", the maximum subsidy amount will reach 60,000 yuan. However, the specific amount of subsidies for enterprises is not yet known.

According to a recent report released by China Investment Advisors, due to the high price of domestic new energy vehicles and the small amount of consumers, the domestic related car companies have been unable to industrialize the core technologies of new energy vehicles. With the support of the local government, foreign automakers have already achieved mass production of some new energy vehicles. Therefore, relevant domestic government departments have to speed up the formulation of the promotion rules for domestic new energy vehicles, and promote the large-scale commercialization of domestic new energy vehicles.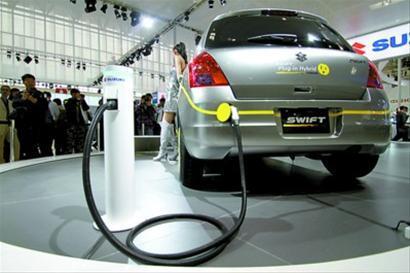 4 electric vehicle standards first landed

Before the announcement of the "New Energy Vehicle Promotion Rules" at the end of the month, an unavoidable question is what is a new energy vehicle? The relevant ministries are trying to give an answer.

Under the premise of no warning, the website of the Ministry of Industry and Information Technology recently announced four industry standards for electric new energy vehicles, including "electric vehicle conductive charging interface", "electric vehicle charging station general requirements", "electric vehicle battery management system and Four standards including a€?Communication Protocol between Off-Car Chargera€? and a€?Test Method for Energy Consumption of Light Hybrid Electric Vehiclesa€? were a€?suddenlya€? released. In view of the fact that various car companies are still screaming for their own standards, the launch of this standard "Lightning" has surprised many car companies. The Ministry of Industry and Information Technology said on its website that "the formulation of the above standards has laid the foundation for the establishment and improvement of China's new energy vehicle standard system and further promotion of the development of the new energy automobile industry."

Up to now, China has formulated and released 42 national and industry standards related to new energy vehicles, of which 22 have been listed as special inspection standards for new energy vehicle product access.

Li Shengmao, a researcher in the new energy industry of China Investment Consulting, believes that the reason why the Ministry of Industry and Information Technology released the relevant electric vehicle industry standards before the introduction of the rules, on the one hand, is to find more suitable models and enterprises for the matching subsidy funds, on the other hand, the Ministry of Industry and Information Technology With the relevant industry standards for electric vehicles, the promotion of new energy vehicles will be maximized.

Bus companies are busy "docking"

A realistic problem is that the development of domestic electric vehicles has been a€?in full swinga€? before the introduction of the four standards of the Ministry of Industry and Information Technology. The low-carbon version of BYD Auto F3 was sold to individual consumers and started the first shot of the personal consumption of new energy vehicles in China. The sales situation of a€?adding price is difficult to buya€? has surprised the industry.

In fact, the traditional three major automobile groups are also accelerating the layout of new energy vehicle products. However, compared with BYD's high-profile, others are very low-key. At the previous Beijing Auto Show, new energy products from SAIC, FAW, Dongfeng, Changan, Chery, Geely and other car companies all appeared. At the Shanghai World Expo being held, public transportation vehicles, VIP vehicles, venue vehicles and sightseeing vehicles in the Expo Park are all new energy vehicles.

As a result, how to connect national standards with corporate standards has become the most concerned issue in the industry.

a€?The four standards just introduced by the Ministry of Industry and Information Technology have already caused many independent brand enterprises to fail. In terms of charging one standard, the country is implementing a unified charging standard, but currently each company uses its own charging standard. And some self-owned brands have already produced mass-produced electric vehicles, so there is no uniform standard, and it is difficult to promote them nationwide.a€? An expert who participated in the discussion of the a€?Regulationsa€? said.

"Now we are also exploring the standard rules and subsidies. The future product development and sales plans will definitely be formulated around the rules introduced at the end of the month." A car company executive revealed that everyone is currently "docking" policy, but Before the specific policy is announced, the company is not good at saying anything.

Expert: Can a car company overtake a corner?

From the government department to the enterprise level, they have expressed great support and attention to the new energy industrialization of automobiles. Obviously, China, which started late in the automotive industry, wants to quickly become a major automobile manufacturing country in the world. New energy is a unique opportunity.

New energy vehicles have condensed the aspirations of China's auto industry: Can we realize the a€?technical leapfroga€? of China's auto industry through the switching of core technologies? Wan Gang, Minister of Science and Technology, said that China's energy-saving and new-energy vehicle development is in a golden period of strategic opportunities. . Expectations of technical route spanning possibilities are increasing. The research in the past 10 years has greatly shortened the gap between China's energy-saving and new energy vehicle technology and the international advanced level.

However, while the automakers are preparing to quickly shorten the gap with the world's automakers through new energy technologies, many people in the industry have a€?splashed cold watera€?. "The new energy vehicle does not have the possibility of 'overtaking the curve.' There is no shortcut, but it can only be done in a down-to-earth manner." Dong Yang, executive vice president and secretary general of the China Association of Automobile Manufacturers, said that he has mastered the core technology of new energy. Become a real world car powerhouse."

This article refers to the address: http://