Samsung Sharp's patent wars, LCD giants trial games
Samsung Sharp's patent wars, LCD giants trial games

The defendant a month ago is now the plaintiff. On December 3, Samsung officially filed a lawsuit against Sharp Corporation to the United States International Trade Commission (ITC), accusing the latter of infringing its patent rights related to LCD devices. One year ago, Sharp a€?s prosecution of Samsung a€?s infringement became a a€?fighta€? between the two giants.

In March 2008, Sharp sued Samsung in the United States for infringing four patents. After 21 months of trial, the US International Trade Commission finally ruled that Sharp won the case last month. Samsung is very angry because the consequences of Sharp a€?s victory are quite serious-according to relevant US laws, importers are not allowed to import products suspected of patent infringement, that is, all Samsung products that use these four patented technologies will be removed from the US market.

According to the survey data of market research organization iSuppli, Samsung Electronics just took the throne of the US LCD TV leader with a 16.8% share in the third quarter, but its advantage is very weak compared to the 15.7% market share of runner-up Vizio (Rui Xuan). In the first two quarters of 2009, Samsung's share lags behind Vizio and ranks second, but considering the number of models that will be forced to be removed from the case, the fourth quarter has been doomed.

Behind the patent war is a brutal battle for market share.

In terms of shipments, Samsung is currently the world's largest LCD panel manufacturer, and two years ago, this "world's largest" laurel was also firmly grasped by Sharp. It wasn't until Sony's production capacity was raised in 2006 that it was surpassed by Sony. However, in 2007, Samsung completely dropped its CRT business baggage, and after fully producing LCD panels, Sony was surpassed by Samsung.

In the North American market, although Vizio beats you to death in terms of market share, Samsung a€?s most dangerous opponent is never Vizio, which is a low-price strategy, but Sony, Sharp, and LG, which are competing with it at the same price. Among them, Samsung and Sony are close partners. They have jointly built a seventh-generation LCD panel production line, and are jointly building an eighth-generation line. They are naturally harmonious with each other; LG and Samsung are Koreans and never meet each other. Only Sharp is Samsung's true rival in the US market.

What makes Samsung even more angry is that Sharp's move broke the unspoken rules that the LCD panel giants have followed for many years. The LCD panel industry is one of the most expensive and technologically most core technology industries except for military projects on the planet today. Any 6th and 7th generation lines require tens of billions of investment, which involves technology and accumulated patents. As many as tens of thousands. Several major LCD panel giants in the world, such as Samsung, Sony, Sharp, LG, Chimei and AUO, have never been able to fully embrace these tens of thousands of patents. Everyone owns some patents and then passes cross-patent licenses. By mutual authorization, each company may create an LCD screen without patent disputes. It is safe to say that the screens produced by Sharp must use some of Samsung a€?s patented technology, and the screens produced by Samsung must also use Sharp a€?s patented technology. The patents between Samsung and Sharp for Gong Gong Hall are only a few of these technologies. That's it.

However, most of the panel licensing lawsuits involving patent licenses were subsequently settled through cross-patent licenses. For example, in November 2007, the settlement between LG Philips and Taiwanese panel manufacturer CPT, and the patent litigation settlement between plasma screen manufacturer Panasonic and Samsung and LG, etc. In the course of several patent trials in which Sharp won the case last month, Sharp rejected any possibility of cross-patent settlement by Samsung and insisted on sweeping Samsung's related products out of the United States.

Helpless Samsung now only has the option of war. And I am afraid that only through victory can there be peace.

25Mm Metal Switches are fashion in appearance and excellent in quality with IP67 dust-proof and waterproof grade. The Power start control system has always enjoy the sound reputation in the long-term international transaction. 25MM mounting hole metal Anti-Vandal Switch could equip with LED Light , it can be two-color LED light bead, such as red and green, or red and blue color.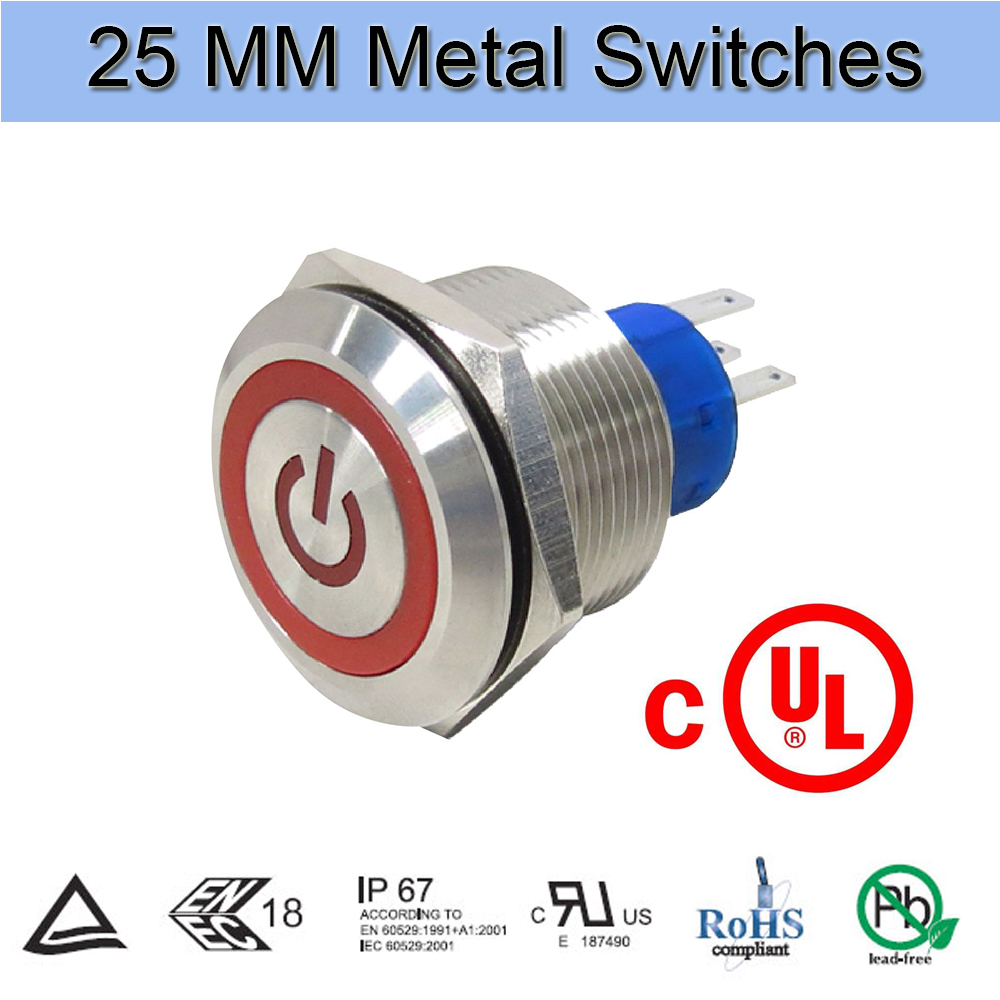 This series Metal Push Button Switch has obtained relevant quality certifications in Europe and the United States, and can be used for dust-proof, oil-proof and waterproof stains in harsh working environments. All the material has passed the strict customs declaration to ensure that this Metal Switches could meets the requirements of green environmental protection in Europe and America. REACH contains Substances High Concern SVHS, also could offer our customers PPAP reports. We are paying very close attention to Green environmental protection project, which is not only our requirements on products, but also our company's attitude towards the international environmental project.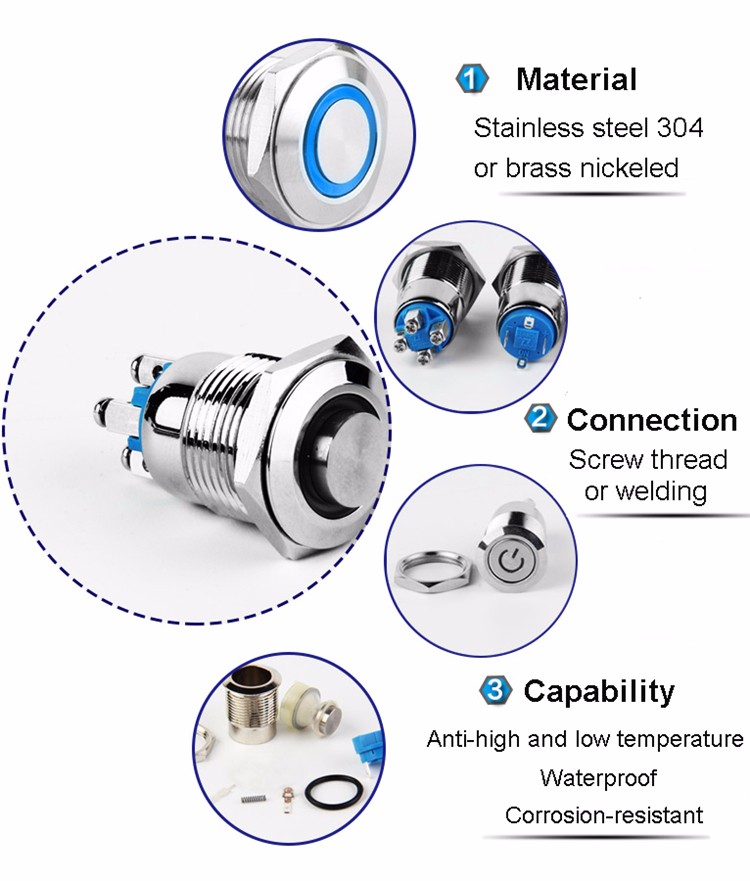 The research and development department of Taiwan's head office has put much more emphasize on research and development on the existing basis, innovate the Illuminated Push Button Switch to achieve 50,000 electrical life under 16A125VC and 16A250VAC conditions. And could have 10,000 electrical life up under 26A125VC and 26A250VAC condition, offering our customers reliable quality guarantee.

25MM Metal Switches

25Mm Metal Switches,25Mm Anti-Vandal Switch,Waterproof Metal Switch,Metal Push Button Switch

YESWITCH ELECTRONICS CO., LTD. , https://www.yeswitches.com