Ruiwei Optoelectronics: High-tech LED lighting exhibition LED high-well lamp is concerned
[Text / high-

tech

LED reporter Luo Shenghua] At

this high-tech exhibition, the LED high-well lamp exhibited by Wuxi Ruiwei Optoelectronics Technology Co., Ltd. has attracted the attention of many buyers at home and abroad.

Huo Dongyang, general manager of Ruiwei Optoelectronics Sales, told reporters that the product system is highly efficient, and the traditional floodlights with metal halide lamps and high-pressure sodium lamps are more than 60% energy-efficient.

As a high-power luminaire, the heat dissipation effect of the luminaire has a direct impact on the life of the product. It is understood that this LED high-well lamp uses pure copper heat pipe, which has excellent heat dissipation effect. In addition, the product's illumination angle can be adjusted to 216 degrees, and the waterproof rating is IP65, which is suitable for outdoor harsh environment lighting.

At present, the price of LED lighting products has dropped rapidly, and the general lighting market has gradually fallen into the era of low profit with low-price competition. Compared with the general lighting market, some professional subdivided lighting fields still have large business opportunities to be tapped due to the small number of companies involved.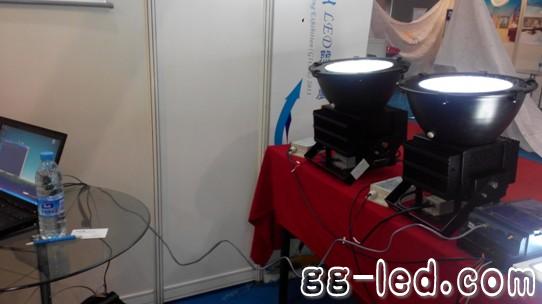 In this context, many companies hope to increase the added value of products through differentiated positioning to win market recognition, product customization has gradually become a trend, Ruiwei Optoelectronics clearly saw this trend.

It is understood that the biggest feature of this series of patio lights is to provide customers with relevant intelligent solutions through product customization. PLC power line carrier is the biggest feature of this luminaire. Each single lamp is individually configured with a controller that can be used to control the switch lights and various intelligent applications such as dimming, timing, and remote meter reading through the connection of the computer terminal and the centralized controller.

In addition, the luminaire signal only interferes with the network environment and is not limited by the regional environment. Huo Dongyang said that in this case, engineers need to install a wave blocker on site to shield the field interference factors to create a clean network environment.

Litz Wire Typical applications are: high frequency inductor, transformer, frequency converter, fuel cell, the horse, communication and IT equipment, ultrasound equipment, sonar equipment, televisions, radios, induction heating, etc.In 1911, New England became the first commercial manufacturer in the United States to produce the Leeds line.Since then, New England has remained the world leader in providing high-performance Leeds line products and solutions to customers around the world.It is also transliterated as the "litz line".

Litz Wire

Litz Wire,Copper Litz Wire,Copper Transformer Litz Wire,High Temperature Litz Wire

YANGZHOU POSITIONING TECH CO., LTD , https://www.yzpstcc.com