Price drop + modular + application extension, how should deep UV LEDs play?
AquiSense Technologies LLC was wholly-owned by NIKKISO (Nikkiso Co., Ltd.) in the United States. AquiSense Technologies LLC is focusing on the development of deep-UV LEDs. Manufacturing and sales of modules and systems for business, headquartered in the United States.

It has launched its first UV-LED-based water disinfection system called a€?pearlaquaa€? and has begun selling their products to the global market. Through this acquisition, the market layout of the deep UV LED business will be accelerated.

As a professional-level market segment for LEDs, the popularization of deep-UV LEDs is accelerating.

Deep UV LED price

A new generation of cutting-edge technology "deep-UV LED" releases light that is bactericidal and invisible to the naked eye. This bactericidal light is called deep ultraviolet light.

It is understood that the output value of UV LED in 2015 is 135 million US dollars. It is expected that the market size of UV LED will reach 300 million US dollars by 2017. The huge market potential of UV LED will undoubtedly attract the competition of many LED companies in China.

For example, Hongli Zhihui (300219) and Guoxing Optoelectronics (002449), well-known domestic packaging companies, have entered the deep ultraviolet field and made achievements.

As early as 2014, Hongli Zhihui announced its involvement in the field of deep-UV LED packaging and established a professional microbiology laboratory. From the spring of 2015, it began mass production of deep-UV LEDs with an emission wavelength of 255-350 nm.

Similarly, in 2014, National Star Optoelectronics also launched its own UV LED device, and in early 2015 launched a series of LED devices such as ceramic substrate 3535, COB package 1215, deep ultraviolet 6636 inorganic package.

a€?At present, the domestic market deep-UV LED has not been applied on a large scale, and the products are mainly from South Korea and Japan. Taking the 3535 package product as an example, the typical output is 2mw 280nm, and its price has continued to drop from several hundred, and is currently stable at 40,000- 50000 yuan / k." According to the head of the Hongli Zhihui UV business unit.

Liang Lifang, deputy director of Guoxing Optoelectronics R&D Center, said, a€?Deep-UV LEDs are still in the early stage of industry development and the price is relatively high. With the continuous maturity of technology and large-scale production, the decline in deep UV LED prices is only a matter of time.a€?

Deep ultraviolet LED modularization trend

At present, NIKKISO is moving from the development of deep-UV LED components to the development of modules and systems, and has developed deep-UV-compatible modules to respond to industrial-grade applications.

Nowadays, domestic packaging companies are gradually changing from single deep ultraviolet LEDs to modularization. Because the modularization of deep ultraviolet LEDs is not only easy to assemble, but also easy to maintain, it has gradually become mainstream.

a€?At present, the single deep ultraviolet LED is still very low in luminous efficiency, which results in a low effect on deep ultraviolet sterilization and water purification applications. This requires multiple deep ultraviolet LEDs to be assembled into modules. In order to solve the problem of low light output of a single deep ultraviolet LED, on the other hand, the modularity can be changed according to fixed parameters to achieve the best effect.a€? Guoxing Optoelectronics Liang Lifang explained.

"It can be said that the modularization trend of the packaging factory is imperative. In addition to considering the light output, there are also a series of problems such as structure, heat treatment, and bactericidal effect evaluation. There is still a long way for deep ultraviolet to be industrialized, so the mold The group research needs to be carried out in advance.a€? The head of the Hongli Zhihui UV Business Unit said to Gaogong LED.

Deep ultraviolet LEDs are expected to be used in a variety of applications, such as water source disinfection, air disinfection, deodorization, medical sterilization, surface modified resin / ink curing, analytical measuring instruments.

"Currently, deep ultraviolet LEDs are mainly used in the fields of UV curing, anti-counterfeiting detection, fluorescence analysis, medical care, water, air and food sterilization. Refrigerators, air conditioners, washing machines, water dispensers, air purifiers, etc. will be deep ultraviolet. One of the main areas of LED application.a€? Guoxing Optoelectronics Liang Lifang revealed.

Deep UV vertical layout is the direction

As the global market is based on the accelerated integration and development of the deep-UV LED application market, it is an irreversible trend for domestic LED companies to enter a segment with higher profit margins. It is believed that more manufacturers will enter the UV LED market. .

For the future of deep-UV LEDs, Guoxing Optoelectronics Liang Lifang is full of confidence that a€?With the increase in the power of deep-UV LEDs and the cost reduction, the application of deep-UV LEDs will be more extensive in the future.a€?

At present, deep-UV LEDs are also resource-based products. From the perspective of driving sales, it is necessary to extend downstream, which can greatly increase the sales of enterprises. Secondly, in the long run, it is necessary for the packaging factory to enter the downstream application market.

Because the application of deep ultraviolet rays is very extensive, many applications are still limited now. It is likely to create some unique applications in the downstream, occupying the market and becoming a long-term profit growth point for enterprises.

As UV LED related equipment matures and the supply chain continues to improve, UV LEDs will become the light of the future.




STF164 Series Copy Stamford Brushless Alternator

STF164 Series Alternator Suppliers
The insulation system is class 'H'.
All wound components are impregnated with materials and processes designed specifically to provide the high build
required for static windings and the high mechanical strength required for rotating components.
WINDINGS & ELECTRICAL PERFORMANCE
All generator stators are wound to 2/3 pitch. This eliminates triple (3rd,9th,15th) harmonics on the voltage waveform
and is found to be the optimum design for trouble-free supply of non-linear loads. The 2/3 pitch design avoids
excessive neutral currents sometimes seen with higher winding pitches, when in parallel with the mains. A fully
connected damper winding reduces oscillations during paralleling. This winding, with the 2/3 pitch and carefully


selected pole and tooth designs, ensures very low waveform distortion.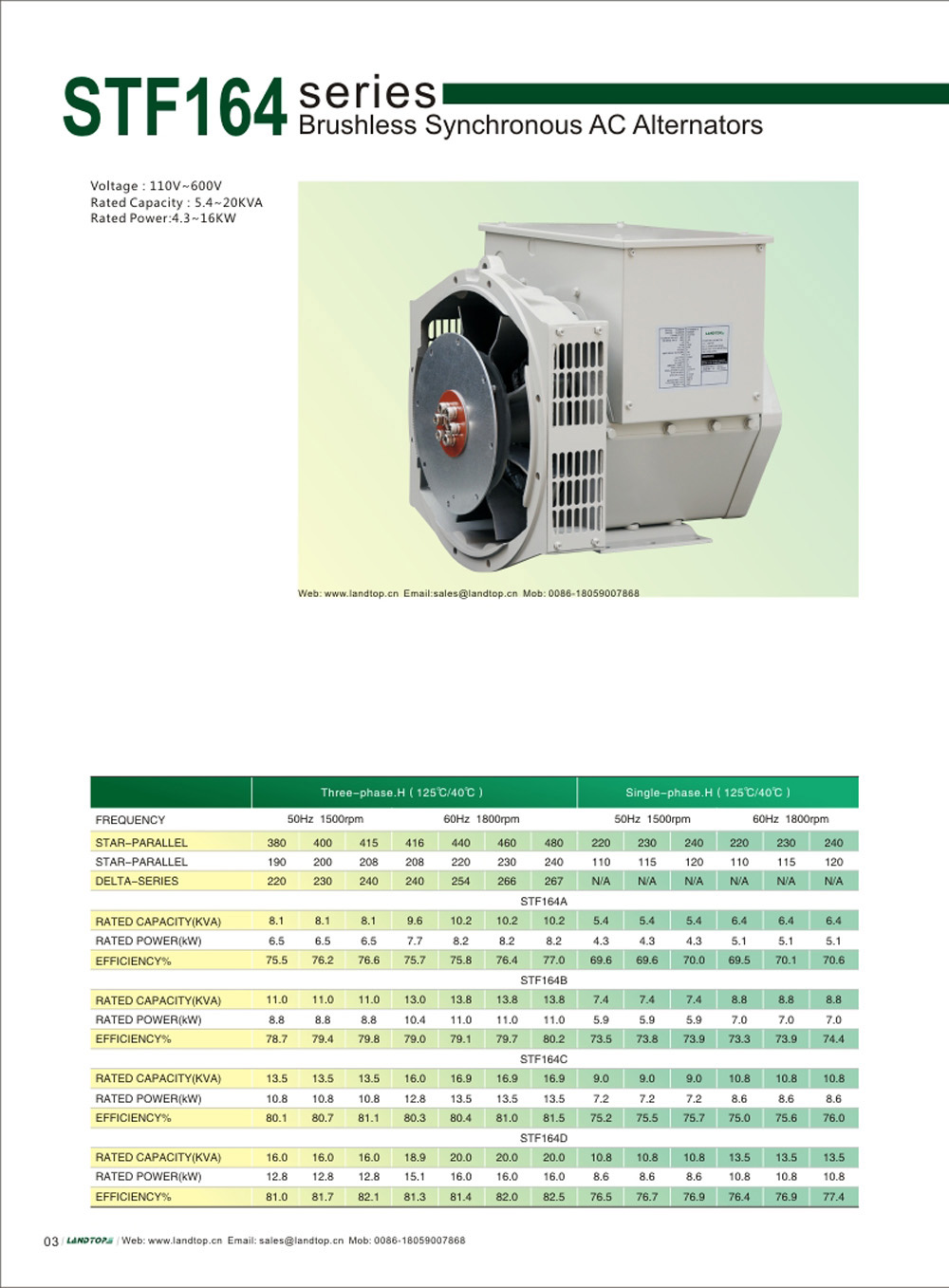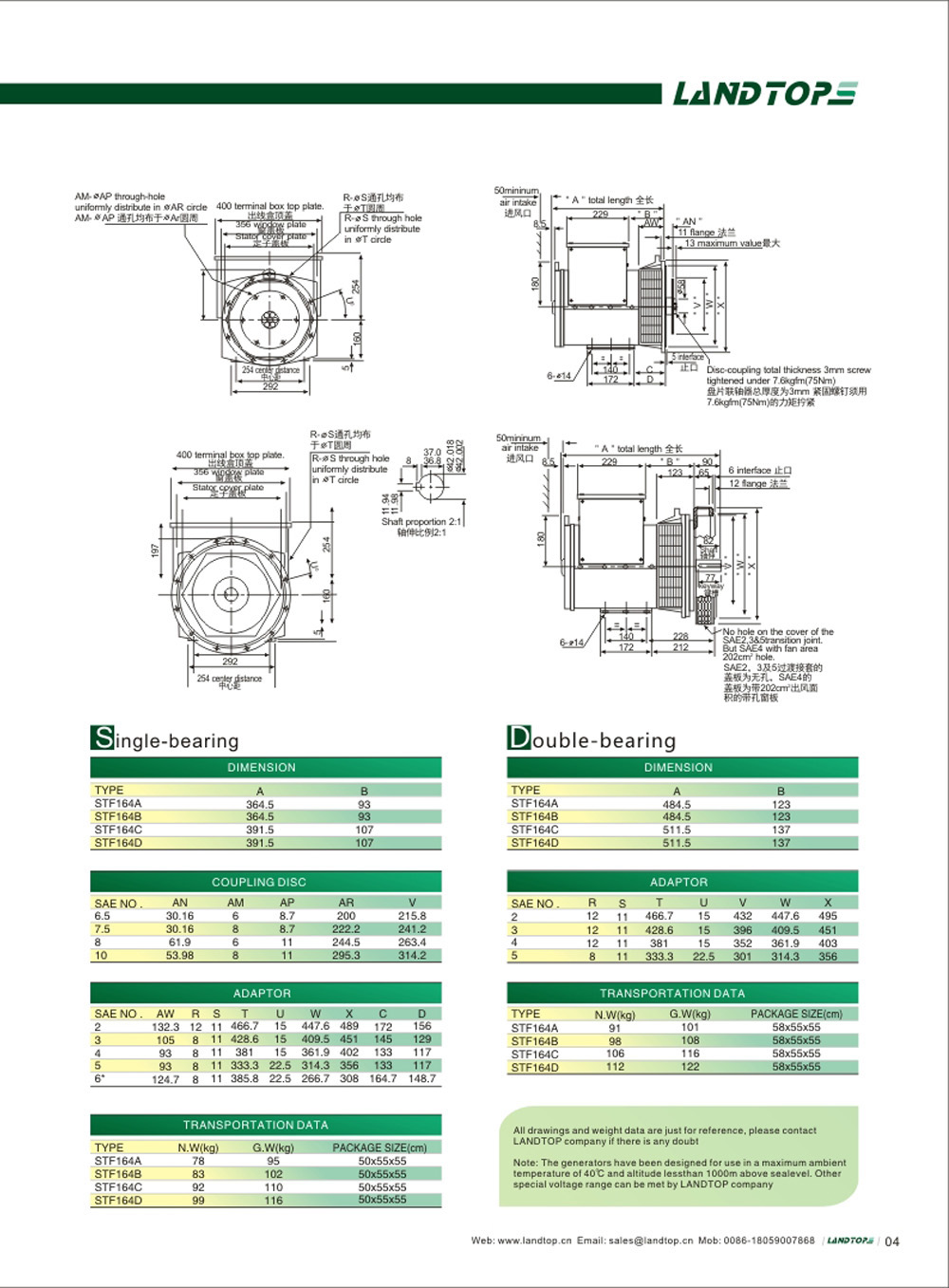 Copy Stamford Brushless Alternator,Three Phase Brushless Alternator,15 Kva Generator 3 Phase,11 Kva Alternator

FUZHOU LANDTOP CO., LTD , https://www.landtopcos.com