National Grid Powers Smart Grid Spring Is Coming
September 22 08:04:30, 2019
The annual work conference held by the State Grid Corporation of China on January 5 showed that in 2011, the company realized a total profit of 53.3 billion yuan, an increase of 18% year-on-year; the first grid investment exceeds 300 billion yuan, reaching 301.9 billion yuan; it plans to achieve a profit growth of 201216 % To 62 billion yuan, grid investment increased by 7.8 billion yuan to 309.7 billion yuan. Liu Zhenya, general manager of the State Grid Corporation of China, stated that in 2012, the State Grid will make new breakthroughs in the construction of smart grids, especially focusing on promoting the preliminary work of UHV transmission projects to ensure that a number of UHV AC/DC transmission projects will be approved or commence construction within the year. . In China, whether it is to resolve the tension between coal and electricity, ensure large-scale development and reliable delivery of energy bases, or adapt to the large-scale integration of clean energy such as wind power and solar power into the grid, it is urgently necessary to accelerate the construction of a strong smart grid. The inclusion of UHV and smart grids in the National Twelfth Five-Year Plan outlines the development of the national grid.

From the analysis, we can see that in order to get rid of excessive dependence on external resources and promote energy conservation and consumption reduction, China is promoting the construction of a smart grid including UHV. Several projects have been intensively started this year; UHV industry is different from high-speed rail, and localization rate Quite high, domestic technology leads the world. Therefore, there are opportunities in the UHV industry.

Driven by smart grids, intensive start-ups From the behavior analysis point of view, in order to get rid of too much dependence on external resources and to promote energy conservation and consumption reduction, our government is vigorously implementing the smart grid strategy. The UHV is one of the very important building blocks of the smart grid. The so-called UHV power grid is a transmission network that delivers AC voltages of 1,000 kilovolts and DC voltages of plus or minus 800 kilovolts and can carry currents over long distances, large capacities, and low losses. The inclusion of UHV in the national "12th Five-Year Plan" outline shows that the country attaches great importance to the development of UHV in its energy strategy. For the State Grid Corporation of China, the focus of the development of the UHV will shift from the research and demonstration and demonstration construction phase to a comprehensive acceleration of the construction phase. At present, the two power grid companies have a relatively good profitability and can support investment of about 400 billion yuan each year, which is more than 10 times the total investment of the UHV power grid during the 11th five-year period. Increase the input of UHV will bring a large number of orders for related equipment and product manufacturing listed companies and improve their performance. Special State Grid Corporation of China recently stated that in 2012, a number of UHV projects were approved or started construction. Of these, four are UHV ACs, and the technology has been in dispute over economics and safety. Therefore, the UHV industry has great investment opportunities and deserves attention.

From the perspective of funding preference, UHV listed companies have always been more secure in their performance, and have always paid attention to public funds. Once they are expected to start intensively, they will certainly be able to attract them to use funds to enter the market.

Localization rate is high China's UHV technology leads the world. This also means that a large number of orders for construction in the future will surely be obtained for companies in China's domestic UHV industry. For example: Recently, the National Grid Corporation's 1000-kV Jindongnan-Jingmen UHV AC demonstration project expansion project was formally put into operation. At this point, the line has become the world's highest voltage level, the highest level of technical transmission and transmission projects, transmission capacity of more than 500 million kilowatts, creating the world's highest single-circuit AC transmission capacity of the highest record. Another difference with the high-speed rail is that Chinaa€?s UHV construction is at the forefront of the world. At present, almost all the equipment used in the domestic three UHV transmission experiment projects are provided by state-owned enterprises. The localization rate of the project can reach 95%, and the localization rate of equipment can reach 91%. Therefore, U.S. Secretary of Energy Zhu Shuwen regarded Chinaa€?s UHV innovation as a challenge to U.S. leadership in science and technology. The UHV will not take the old road of pure high-speed rail import and imitation, and will send large quantities of orders and profits to foreign companies. Chinese domestic companies are expected to benefit from the construction of UHV. Therefore, the UHV industry deserves attention in the medium and long term.

Cat5e cable, Cat6 is a "twisted pair" network cable used for 1000BASE-T Ethernet applications at speed of up to 550MHz of bandwidth. This cable is preferred for more advanced networking installations where a higher bandwidth than normal is required.

Our bulk 1000ft stranded Cat6 Ethernet cable comes in an easy to use pull box and is ideal for the person looking to make a variety of Patch Cables over a larger job or for one looking to be prepared to handle unexpected situations on the network infrastructure.
Cat6 Cable is used in network applications and have been designed specifically for Gigabit Ethernet applications. They perform at high-data transfer rates, and work with ATM and gigabit speed products.
This particular cable is a gray UTP (Unshielded Twisted Pair) stranded cable. The individual conductors are 24 AWG (American wire gauge) stranded pure copper. Pure copper conductors provide the best signal possible. Cat6 cable includes a spline to help ensure separation between the pairs which limits cross talk. Our Cat6 Ethernet cable exceeds the EIA/TIA-568-C standard.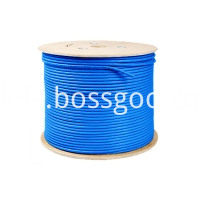 Bulk Cables,Bulk Ethernet Cable,Bulk Power Cable,Bulk Hdmi Cable

Shenzhen Adela Technology Co., Ltd. , https://www.adelafiber.com