IE8 three major reliability and new features analysis
IE8 three major reliability and new features analysis

Microsoft Internet Explorer project manager Andy Zeigler discussed three new reliability features of the new version of IE8 through the official blog today: loosely coupled IE (LCIE), automatic crash recovery, and Windows error reporting.

Andy Zeigler said that reliability means that the browser always starts quickly, runs well, connects smoothly, displays the website correctly, does not crash or hangs; everyone rarely cares whether the error is caused by the browser plug-in or the website, and only hopes that 'S browser can work normally, and can quickly recover after a crash, and there is no error in rendering the website. This is also one of the missions of IE8.

1. Loosely coupled IE

The new software architecture design isolates different parts of the browser from each other to improve stability and performance. This is also the basis for other new features such as automatic crash recovery.

Starting from Beta 1, IE8's frame window and tab are independent of each other, no matter who crashes will not affect the other party. You can refer to the figure below, the frame part is highlighted, and the label part is gray.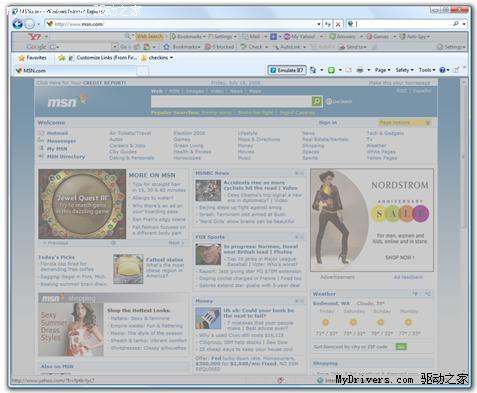 The major changes in Beta 2 in this regard are:

1. Merging of framework processes:

Before starting IE8, you need to start the two processes of the frame and the label. Now, only the frame process is started. The label process is only started when the page is subsequently opened.

If you need to start multiple sessions, such as entering multiple email sites at the same time, you can use the parameter "-nomerge".

2. More labeling processes:

Most IE sessions have no more than three tags, so Beta 2 will try three efficient tag processes, and the stronger the user's computer processing power, the more tag processes, the more conducive to program stability. If each tag has its own process, the sites will be completely isolated from each other.

This function is basically equivalent to multi-threaded labels such as Maxthon and Window of the World.

3. Virtual label:

If a trusted website is added under protected mode IE7, and the website points to another untrusted website, a new window will open when clicked, and in IE8 Beta 1, it has been changed to open a new tab in the same window .

The virtual label introduced by Beta 2 can achieve the above operations in the same label in protected mode, because the program will switch processes in the background, thereby greatly simplifying user operations and improving efficiency.

Second, automatic crash recovery

With the help of LCIE's label isolation technology, IE8 can locate where the browser label crashed and then quickly recover. The performance in Beta 1 is as follows:

The realization of this function depends on the program tracking various information of the tag at any time, including:

Current URI (URL)
Browsing history (forward and backward history)
Tag order Currently active tags

Beta 2 improvements include:

1. Session Cookies:

Session cookies are usually used for website authentication of users, and are only valid during the opening of the website. It is not written to disk like permanent cookies to ensure safety and privacy.

IE8 Beta 2 will restore session cookies at the same time that it restores the session, but it also does not write to the disk. The program only keeps a backup during the framework process. After the label crashes, it is restored from the framework to the label. When the user opens the website again, he is still logged in. It is effective for email, blog, social networking and other websites.

Note: Session cookie recovery is limited to tab crashes. If the entire browser hangs, session cookies will be lost. Of course, due to the improvement of IE8 architecture, the chance of program crash will be greatly reduced.

2. Form data:

If you are writing emails, blog posts, comments in HTML, IE8 Beta 2 can also restore them.

3. Windows error report (that is, Dr. Watson)

If the program crashes or hangs, users may see a "Send a message to Microsoft" prompt, which is an error report. Microsoft claims that each report will be handled carefully, and has solved more than half of the feedback problems, but there are not many users who are willing to be volunteers. Most people are very disgusted with this kind of error report, especially worried that the error log takes up the hard disk Space and personal privacy have been leaked, so I wo na€?t go into details here.

IE8 Beta 2 will be released in August, and the first batch will include simplified Chinese version; the final official version of IE8 will be launched at the end of the year.

The High Power Battery Pack is mainly used in various vehicles, ships, aircraft and other internal combustion engines, lighting, energy storage, uninterrupted power supply, mobile communication, portable electric tools, electric toys.there are some differences compared with other normal battery .
1.properties
High power Lithium Battery is a battery that powers a vehicle, usually compared to a small battery that powers a portable electronic device. And normal lithium battery is a kind of anode materials for lithium metal or lithium alloy, using nonaqueous electrolyte solution of a battery, and Rechargeable Battery lithium ion battery and lithium ion polymer battery is not the same
2.discharge power
a 4200 mah high power lithium battery can discharge all power in just a few minutes, but normal lithium battery could not do that completely, so normal lithium battery discharge ability cannot be compared with the high power lithium batteries entirely. The biggest difference between high power lithium battery and onormal lithium battery lies in its high discharge power and higher energy. Since high power lithium-ion batteries are mainly used for automotive energy supply, they have higher discharge power than ordinary batteries.


3.High Power Battery pack can discharge at higher instantaneous current than normal Lithium Battery Pack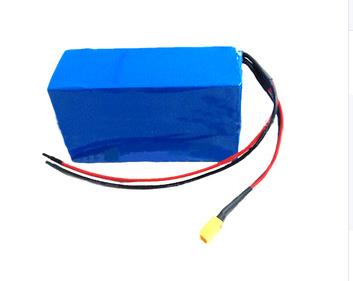 High Power Battery Pack

High Power Battery Pack,High Power Battery,Battery Pack,Lithium Polymer Battery

YFJ TECHNOLOGY (HK) CO.,LIMITED , http://www.yfjpower.com