Fancy smart appliances sell carefully buy
February 06 05:06:53, 2020
a€?Intelligent, environmental-friendly, and light-weight, three keywords can summarize the trend of the domestic appliance market this year.a€? At the 2013 Shanghai Home Appliances Expo (hereinafter referred to as the a€?Home Expoa€?), Jiang Feng, chairman of the China Household Electrical Appliances Association, said that intelligence will be the future of home appliances. The trend of the industry.

At home fair site, white goods blowing smart wind. Haier's first global smart cloud appliance launch in China - the "green smart" appliance change lifestyle has become a reality. Hisense, Zhiyun's cloud air conditioners, smart washing machines, refrigerators and other home appliances can be remotely controlled by mobile phones. The color TV products, in addition to the live display of OLED TV and 4K TV, Haier launched eye-controlled TV and other smart novelty products caught eye. However, although smart concepts are borrowed by everyone, smart home appliances are attracting more attention from the exhibition hall to the family.

Cloud air conditioning is 20% more expensive than normal

Holding a mobile phone or iPad pre-installed with a dedicated APP, you can control the air conditioning in front of you by using your voicea€"starting, dehumidifying, and all kinds of manipulation are all done on the mobile terminal. At the same time, the air conditioner can also remind whether it is necessary to boot according to the weather forecast On the scene of the home expo, such demonstrations have gradually been woven into a large piece from last year's sporadic bits and pieces. Haier, Hisense and Zhixiu have all exhibited.

According to Zhigaoyun air-conditioning technology personnel, air-conditioning has the unique network address and identity authentication assigned by the cloud data center with the support of the cloud computing center. The user can obtain relevant identification of the air conditioner, such as technical indicators, hardware support, usage status, energy consumption, personal preferences of the service object, and the like. More importantly, humanized air-conditioning products have the ability to sense the weather and can automatically switch between defrosting and dehumidification depending on the climate. Currently, cloud air conditioners have been listed and are high-end products, which are about 20% higher than ordinary air conditioners.

Haier showcased a complete set of smart cloud appliances, covering a full range of home appliances such as refrigerators, washing machines, color TVs, and computers. It also showcased a new life style for consumers with innovative technologies such as new cloud computing, big data analysis, and online services. a€"a€"How to match the food in the refrigerator, automatically cut off gas for safety, washing machine with Internet access, and automatic heating of water heater in advance... The reporter learned that in the cross-border of black and white electricity, all smart home appliances systems are connected by mobile phones or pads. An interconnected two-way network enables the system to change from the original single network control to human-computer two-way intelligence interaction.

It is reported that the entire cloud appliance has not yet been listed on a large scale. Haier related sources revealed that it is a high-end product and the price will be higher. It is expected that it will be supplied to the market in batches after one month.

IT smart TV smart price decline

Compared with smart ice washing products that are not yet popular, smart TVs have been sold. This is thanks to the color TV's IT - TV also with a smart operating system, with quad-core (dual-core CPU + dual-core GPU), and even six-core (dual-core CPU + quad-core GPU) multitasking capabilities. Therefore, the TV can also access the Internet. The remote controller can not only control the TV and the set-top box at the same time, but also can control the TV as a wireless mouse to access the Internet. If you play somatosensory games, the remote controller is turned into a gamepad. If you use the voice search function, the remote controller is a microphone and can talk to the TV.

In fact, TVs displayed in front of the public, including Haier, Hisense and Skyworth, are all smart TVs. A remote controller messed up TVs, set-top boxes, internet, voice, games, etc. At the same time, the Android phone can also be a backup remote controller.

In addition, "TV visits" have also become a major feature of smart TVs. Skyworth and Haier TV's health checkup platform can measure health indicators such as blood pressure, blood glucose and weight. "Interactive functions including gesture recognition, face recognition, and voice recognition are also reflected on smart TVs," Haier said. The reporter learned that since the high-end color TVs currently on the market are all smart TVs, their prices have continued to decline and they have already flown into the homes of ordinary people.

The on-site display of an eye-controlled TV attracted more people to watch it. Whether the audience wears glasses or not, they just need to sit in front of the eye-catching device and use their eyes to exchange TV channels. Interestingly, the on-site staff has repeatedly tried repeatedly, but the reportera€?s experience has often been a€?not on focusa€? and the eye cannot control the TV.

The staff revealed that the TV is not yet in production and the date of listing is expected to be determined.

Reading during the same period:

The "ultra-thin wind" has become more intense

Who says only mobile phones and tablet computers pay attention to slim body? At the Expo, Gree, Haier, Hisense, and Kelon launched products with a thinness of 15 cm or even thinner. Hisense Air-Conditioner's "Apple Pie A8" series was inspired by Apple's latest Magic Mouse mouse, which has an ultra-thin body of 11.3cm. The mini body shape benefits from the innovative compact evaporator with a more compact structure.

Kelon VV slim air conditioning, the thinnest point reached 12.3cm, easily into the first camp of ultra-thin air conditioning. And Gree, Haier's ultra-thin air-conditioning is also up and down in 14cm. Consistent with various manufacturers, ultra-thin design of air-conditioning, the price is very "thick", higher than the average price of 15% or more air-conditioning. Although ultra-thin air conditioners have high technical requirements, they also cause consumers to worry about slimming materials. Environmental protection and energy-saving refrigerators have become another aspect of this Fair. According to Tang Yeguo, the vice president of Hisense Group and chairman of Hisense Kelon, Rongsheng will focus on the refrigerator business with the concept of a€?simple life and enjoy the original ecologya€?. Previously, Rongsheng refrigerator led the refrigerator energy-saving tide with 0.25 degree electricity/day.

Laser crystals of various materials including Neodymium Doped Yttrium Aluminum Garnet (Nd:YAG), Yb-doped Yttrium Aluminum (Yb:YAG), Nd-doped Yttrium Orthovanadate ( Nd:YVO4 ), Nd-doped Gadolinium Orthovanadate ( Nd:GdVO4 ), Cr doped Yttrium Aluminum Garnet ( Cr4+:YAG ) and diffusion bonded composite crystal ( DBC crystal ) are available from Coupletech Co., Ltd.




Coupletech could supply many kinds of Laser Crystal with larger dimension, higher damage threshold, higher conversion efficiency and higher reliability for higher power Solid-state laser applications. We have strict quality control and continuous innovation. Coupletech's various finished laser rods, laser crystal, slabs and thin wafers as well as supplying laser crystal with brewster's angle, which is widely for use in industrial, medical and scientific applications.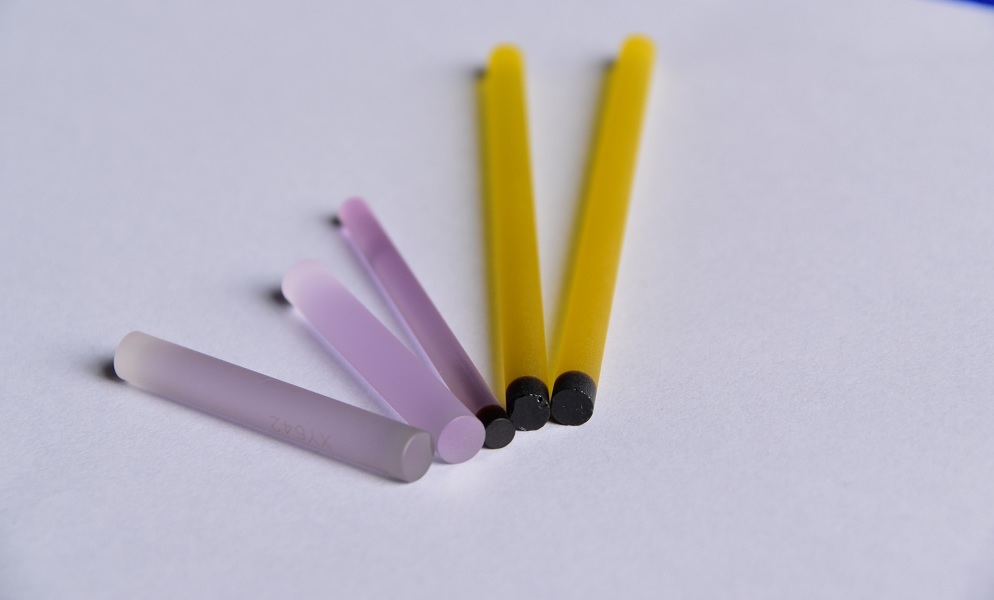 S

Laser Crystal

Yb:YAG Crystals,Nd:YAG Crystals,Nd:YVO4 Crystals,Cr:YAG Crystals,Diffusion Bonded Crystals

Coupletech Co., Ltd. , https://www.coupletech.com