China LED Outlook: What can the lighting plan provide?
During the Spring Festival of the Year of the Snake, the LED lighting industry received a "New Year red envelope".

The National Development and Reform Commission released the "Semiconductor Lighting Energy Conservation Industry Plan" on February 17th. According to the plan, all incandescent lamps for general lighting above 60W in China will be eliminated; the market share of energy-efficient lamps and other traditional high-efficiency lighting products will stabilize at about 70%; LED The market share of functional lighting products is over 20%. The plan also stated that: gradually increase the financial subsidies for LED lighting product promotion; promote the demonstration application of LED products in medical and agricultural, stage, landscape lighting and other professional and special places; organize the development of well-known architectural lighting applications, energy-saving renovation of architectural intelligent lighting, Demonstration project of off-grid lighting application in power shortage areas.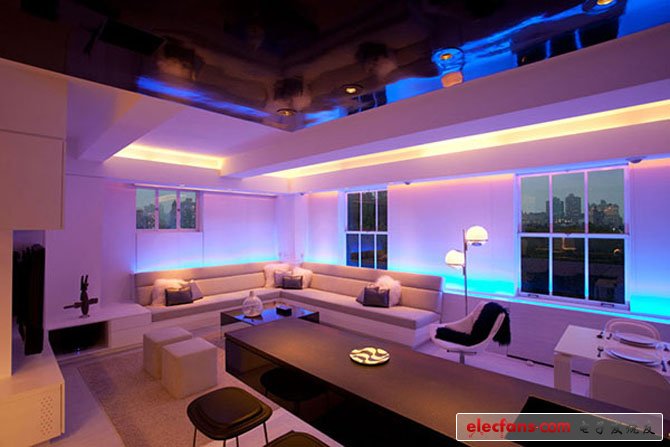 The clarification of the plan has played a role in promoting the elimination of inefficient products in the lighting industry and accelerating the market penetration of green lighting. However, it is doubtful how long the "red envelope" effect can last. Various signs indicate that the recovery of LED depends on policy support, and more on the establishment of its own quality assurance system. LED lighting products are expensive but the quality is not necessarily reliable is the biggest obstacle on the road of industrial development.

Ideal replacement for traditional light sources

Experts tell us: LED is a solid-state semiconductor that can convert electrical energy into visible light.

Experts also tell us: lighting consumption usually accounts for 20% of the total electricity consumption of the whole society.

Obviously, if you can reduce the power consumption of lighting, you can save a lot of energy for society. The LED lamp has a long life, high light efficiency, low radiation, low power consumption, and significant energy saving. According to the predictions made by the United States and Japan on the effectiveness of LED lighting, 55% of incandescent lamps and 55% of fluorescent lamps in the United States are replaced by LEDs, saving 35 billion U.S. dollars in electricity bills each year and reducing 755 million tons of carbon dioxide emissions each year; 100% of incandescent lamps in Japan are replaced by LEDs , Can reduce the power generation of 1-2 nuclear power plants.

According to a calculation in China, if all the incandescent lamps in use in China are replaced with energy-saving lamps, 48 a€?a€?billion kilowatt-hours of electricity can be saved each year, which is equivalent to a reduction of nearly 48 million tons of carbon dioxide; if it is further replaced with LED lighting products, it will save energy The effect is more significant. Compared with traditional lighting products, LED road lighting saves more than 30%, indoor lighting saves more than 60%, backlighting saves more than 50%, and landscape lighting saves more than 80%, achieving 60 billion kilowatt-hours of electricity annually. To save 21 million tons of standard coal and reduce carbon dioxide emissions by nearly 60 million tons.

It is precisely because LED shows the superior characteristics of high efficiency, energy saving and green environmental protection, so it is hailed as the fourth generation of new light source in the history of human lighting, especially in the context of the increasing concern of global energy shortage, the prospect of LED in the lighting market is even more Global attention has attracted more and more capital to intervene in this industry.

In 2004, China also invested 5 billion yuan to vigorously develop energy-saving and environmentally friendly semiconductor lighting plans; since 2008, it has launched financial subsidies for the promotion of efficient lighting products; in 2009, the "Semiconductor Lighting Energy-Saving Industry Development Opinions" was issued; in 2011, " Roadmap for China's phasing out of incandescent lamps "; In March 2012, the China Environmental Protection and Energy Conservation System Innovation Working Committee announced that it will implement green lighting energy-saving renovation demonstration projects in phases and batches in China's pilot regions.

Benefiting from the support of the government and the huge potential of China's market, more and more international LED giants have begun to turn their attention to China, have adjusted their strategies to step up their layout in China, shifted their industries to China, and increased their efforts to expand the Chinese market. And local Chinese companies are also making great forays into the LED industry, especially the domestic giants of traditional lamps and lanterns. They are also rapidly transferring the huge production capacity and long-term accumulated production experience of traditional lamps and lanterns to LED lighting products, using their perfect marketing network. In order to gain more market share in the emerging LED lighting market. During the "Eleventh Five-Year Plan" period, China's LED lighting energy-saving industry grew at an average annual rate of more than 35%. According to incomplete statistics, as of the end of 2010, there were more than 5,000 semiconductor lighting companies in China, including about 1,000 companies above designated size. The annual output value of the whole industry is 120 billion yuan, and the output of LED lighting applications accounts for more than 60% of the world, with an output value exceeding 19 billion yuan.

However, with a round of intense expansion of production capacity comes a relatively surplus production capacity. In 2011, the scale of China's semiconductor lighting industry reached 156 billion yuan, up 30% from 120 billion yuan in 2010. Among them, the scale of upstream epitaxial chips, midstream packaging, and downstream applications were 6.5 billion yuan, 28.5 billion yuan, and 121 billion yuan, respectively, and the growth rate slowed down slightly. In 2012, China a€?s LED industry had overcapacity and even more homogeneous competition. The Pearl River Delta and the Yangtze River Delta were the most concentrated regions of the LED industry. However, in 2012, there were more than 80 failed LED lighting companies in Shenzhen; in Foshan, Guangdong, 2012 Nearly 10% of LED lighting companies went bankrupt in the middle of the year, and LED lighting companies in Dongguan and Zhongshan also fell into a cold wave of collapse. The large net profits of LED listed companies have declined to varying degrees. The profits of some enterprises mainly depend on government subsidies, such as the listed company Sanan Optoelectronics a€?profit in the third quarter of 2012 was 667 million yuan, of which the subsidy was as high as 328 million yuan; Dehao Runda a€?s net profit in 2012 was 120 million yuan. As much as 150 million yuan.

Short product life causes the market to "short circuit"

Macroeconomic and real estate policy adjustments and the slowdown in real estate market investment are a major factor in the expansion of the LED lighting industry's downstream production capacity as real estate, but the deeper reason behind this lies in the LED lighting products themselves. Especially in the civilian field, the contradiction between high prices of LED lighting products but not necessarily reliable quality has made its sales less smooth. "Currently, the domestic LED lighting industry generally has problems such as low energy efficiency, short service life, and high cost, which have hindered the market popularity of LED lamps," said Peng Wanhua, deputy leader of the National Semiconductor Lighting Technology Standards Working Group.

A reporter visited some lamp cities in Shanghai and found that although incandescent lamps are rare at present, energy-saving lamps and LED lamps have become the protagonists of lamp cities, but compared with the popularity of energy-saving lamps, LED lighting products are obviously less interested. Many shop owners revealed that at present, the price of energy-saving lamps is about 10 yuan, and the ex-factory price of each LED lamp is generally more than 30 yuan. Consumers are more sensitive to prices, so they are more willing to cheap energy-saving lamps rather than better energy-saving LED out of pocket.

The reporter learned in further interviews that although some consumers are frightened by the high price of LED lighting products, most consumers actually have more doubts about whether their quality really passes. According to the situation disclosed by Peng Wanhua: LED chip life can reach hundreds of thousands of hours, and the life of components can also be 50,000-100,000 hours. However, the life of some domestic LED bulbs can only be 15,000-2.5 thousand hours. What is the concept of life span 15,000-25,000 hours? Assuming that the lights are turned on for 8 hours a day, the service life of an LED bulb is about 5-8.5 years. Peng Wanhua believes that, compared with the life of LED chips and components, there is still much room for improvement in the life of LED lights.

The export momentum of China's LED lighting products is good, but due to the low quality control capabilities of some enterprises, product quality problems occur frequently. It is understood that in 2012, the EU Non-Food Rapid Warning System (RAPEX) notified China's export of LED lighting products a total of 37 times. Among them, it was notified 29 times because of insufficient creepage distance or insufficient clearance resulting in poor insulation performance.

At the end of 2012, the Quality Supervision Bureau, General Administration of Inspection, and Industry and Commerce Bureau spot-checked LED lighting products, energy-saving lamps, road lighting, fire emergency lighting and electric light sources throughout the country. The results show that the qualification rate of LED lighting products is only 51%.

Obviously, LED lighting has to enter thousands of households, the first is to lower the price, and the second is to improve the reliability and stability of the product, and pass the quality. At the end of April 2012, the US Department of Energy released a new phase of "solid-state lighting plan" (referred to as the SSL plan). The plan focuses on technology research and development, product manufacturing, commercialization support, patent standard system, etc., and proposes goals, routes and corresponding countermeasures to promote the development of the US LED industry. The goal of the plan is that the cost of LED components will reach USD 2 per thousand lumens by 2015 and USD 1 per thousand lumens by 2020. LED lights are composed of chips, LED components, heat sinks and lampshades. The cost of components accounts for about 1/3 of the cost of lamps. Peng Wanhua believes that this plan in the United States is also a cost target that is currently more recognized by the industry. To achieve this target, the price of LED components must fall at a rate of 20% per year within the next 10 years.

A new round of market opportunities is gestating

It is reported that the price of LED chips has been significantly reduced, and the price of LED lighting terminal products is also falling. In particular, the ongoing LED industry's transfer from the coast to the interior and active mergers and acquisitions have provided support for the decline in the cost of LED products. NVC relocated its headquarters from Huizhou to Chongqing, Sanan and Dehao Runda moved to Wuhu, and Zhenmingli's location in Yangzhou has further rationalized the industrial layout.

However, for LED companies, to truly get out of the downturn, the more critical factor is not how "wide" it is, but how "deep" it is. Some experts pointed out that with the release of the "Semiconductor Lighting Energy Conservation Industry Plan", the determination of the phase-out schedule for incandescent lamps, the increased promotion of financial subsidies, and the implementation of government procurement to take the lead in adopting LED lighting products and other measures, a new round of LED lighting market Opportunities are being conceived, it depends on whether the company can strengthen investment in key links such as technology research and development and quality management, and whether it can produce excellent products.

RS485 is one of the the most widely used serial interfaces in SCADA, remote control and telemetry applications.

PufangTech`s Radio Modem provides an effective means for extending product lines. When using RS485 to link those wireless equipment, there won`t be any disruption to original devices.

Our integrated modem data solutions are as easy as sending modem data from a small sized controller or a serial port, and the PufangTech`s radio modem can handle all transmission and the process of reception. RS-485 Link can pass the data as well as receiving from the network in a low latency.

RS485 is one of the the most widely used serial interfaces in SCADA, remote control and telemetry applications.

RS485 Radio Modem,RS485 Radio Data Monitor Modem,RS485 Data Radio Modem,RS485 Standard GPRS Radio Modem

Shenzhen PuFang Technology Co., Ltd. , https://www.hytelus.com