2012 China's lighting white LED packaging enterprise competitiveness ranking
December 17 12:06:12, 2019
[Text / "High-tech LED - Research and Review" August issue GLII]

In the first quarter of this year, the LED industry was affected by the international economic downturn. The revenue of many LED packaging manufacturers declined year-on-year, but from the end of the first quarter, the lighting market demand began to heat up, driving the LED package production and sales rate to rebound, and some LED packaging manufacturers Revenue began to stabilize and rebound.

In terms of the market competition pattern, on the one hand, enterprises with larger production scales generally have a phenomenon of increasing income without increasing profits, while small and medium-sized enterprises with technological innovations have developed against the trend. The vast majority of the remaining package manufacturers, which have no cost, technical advantages or low-light LED devices, generally show signs of rapid decline in revenue. Some companies' revenues have dropped by as much as 30% year-on-year.

The High-tech LED Industry Research Institute (GLII) has conducted an in-depth investigation of domestic LED white light packaging manufacturers, and selected the most competitive LED white light packaging enterprises in China from the perspective of the company's revenue scale, technical strength and growth potential. Strong.

2012 China's lighting white LED packaging enterprise competitiveness ranking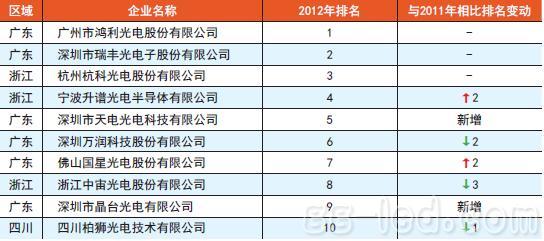 Data range description:

Enterprise scope: Enterprises with LED packaging as their main business as the ranking target, foreign-invested enterprises, Hong Kong, Macao and Taiwan investment enterprises are not within the scope of research.

Competitive evaluation criteria: In this competitive ranking, the total score is 100 points; in the first half of 2012, the sales score is 90 points, and the enterprise technical strength score is 10 points.

1. Hongli Optoelectronics

Hongli Optoelectronics Co., Ltd., which has the largest number of white light patents in China, is one of the leading manufacturers of white LED packaging for domestic lighting. Its white LED packaging devices account for about 80% of the company's total revenue. The products are mainly used in high-end and high-end lighting applications. Automotive lighting and backlighting.

In the first half of 2012, Hongli Optoelectronics achieved operating income of 257 million yuan, down 5.7% year-on-year, and achieved a net profit of 31.28 million yuan, down 16% year-on-year. Compared with the first quarter, the company's revenue decline in the second quarter decreased significantly. At present, the monthly production capacity of Hongli Optoelectronics LED packaged devices has reached 600 KK. With the gradual release of subsequent production capacity, the company's revenue scale will continue to expand.

In addition to deep-growing the LED packaging market, Hongli Optoelectronics also actively deployed the commercial lighting and automotive lighting market through its wholly-owned subsidiary, Lai Diya and its holding subsidiary, Guangzhou Foda, and entered the LED market through the capital increase of Guangzhou Zhongying Gongyuan Energy Saving Technology Co., Ltd. Lighting EMC energy service market. GLII believes that the layout of Hongli Optoelectronics in the downstream lighting application market will expand its packaging capacity to the downstream stable seaport.

2, Ruifeng Optoelectronics

As one of the leading manufacturers of lighting equipment packaging in China, Ruifeng Optoelectronics is also one of the few packaging companies in China that can supply large-size backlight LED devices in batches and successfully enter the supply chain system of first-line TV brand manufacturers. At present, the company has already owned large customers such as Konka, Skyworth and Changhong in the large-size backlight field, and has already sent samples to TCL, Huaxing Optoelectronics, BOE and other companies for testing.

In 2011, Ruifeng Optoelectronics' LED LED device revenue accounted for 51% of the company's total revenue. In the past three years, the company's lighting LED device revenue has achieved a compound growth rate of 47%.

In the first half of 2012, Ruifeng Optoelectronics achieved operating income of 176 million yuan, a year-on-year increase of 21.97%. Among them, the white LED packaging device for lighting achieved a revenue of 91.98 million yuan, an increase of 19.7%.

3, Hangke Optoelectronics

As one of the leading companies in the field of LED white light packaging, Hangke Optoelectronics has nearly 10 years of R&D experience and industrialization accumulation. Its ultra-high brightness white LED has a high market share in the domestic high-end market, and its sales are in domestic packaging. The company is in a leading position, and its main customers include Sunlight Lighting, Shanghai Yaming, Xizi Group, Green Lighting, Hisense Electronics, etc.

In recent years, Hangke Optoelectronics' sales revenue has increased at an annual rate of more than 30%. In 2011, the company achieved sales revenue of 160 million yuan, of which white LED device revenue accounted for 75%. In the first half of 2012, the company's revenue exceeded 140 million yuan.

15,000 square meters of 100,000 class dust-free workshops, more than 10 automatic production lines, more than 100 automatic solid crystal machines, welding line equipment highlights the strong production strength of Hangke Optoelectronics.

4, ascending spectrum photoelectric

In 2003, Shengpu Optoelectronics invested US$25 million to build a 60,000-square-meter LED production base in Ningbo High-tech Zone. At present, the company has 40,000 square meters of standardized workshops, more than 30 automated production lines, and has a highly efficient R&D. Team.

In the field of LED packaging, Shengpu Optoelectronics has more than 30 patented technologies independently developed. The company has strong competitive strength in the fields of power illumination source, low light fading white LED, COB integrated light source, SMD LED and LED indoor and outdoor lighting. At present, the highest light efficiency of white LED LED beads for lighting of the enhanced spectrum has reached 150lm/W.

In recent years, driven by the continuous improvement of product quality, the production capacity and operating income of Shengpu Optoelectronics have maintained a steady growth rate of more than 20%. At present, the company's main products are white LED package devices, the main sales markets include domestic, European, US, Japan, South Korea, India and South America. In 2012, in the context of shrinking overseas market demand, Epistar will continue to expand its production capacity by 30%.

5, Tiandian Photoelectric

Since its establishment, Tiandian Optoelectronics has been doing business with less and less. At present, the company only produces and sells three packaged devices of 3020, 3030, 3014, 5050, 3535 and 9292. The company now has 12,500 square meters of factory buildings and 5,000 square meters of ultra-clean, anti-static modern dust-free workshop.

As a promoter of reducing the cost of LED lumens in China, Tiandian Optoelectronics' 3014, 3020 and 3030 products have achieved the goal of 100lm/yuan, and have begun to supply batches to lighting application companies.

In 2011, Tiandian Optoelectronics' sales revenue exceeded 100 million yuan. In the first half of this year, due to product price adjustment, the company's revenue growth rate slowed down. GLII believes that with the continuous reduction of lumen costs, the future revenue growth of Tiandian Optoelectronics will be sustainable.

Semi-harvester for Agriculture:





The semi-feeding harvester can complete the harvesting, delamination, separation of stems, removal of sundries and other processes at one time, and the Rice Harvester machine for obtaining grain directly from the field is mainly suitable for rice harvesting, wheat harvesting, and this reaper machine can adapt to deep mud feet. Under the serious harvest conditions, the grain cleanliness after harvest is very high, and at the same time, the stem integrity after harvest can be guaranteed, so that farmers can complete harvesting and granulation with a single operation, thus saving manpower and material resources and greatly reducing the burden of farmers.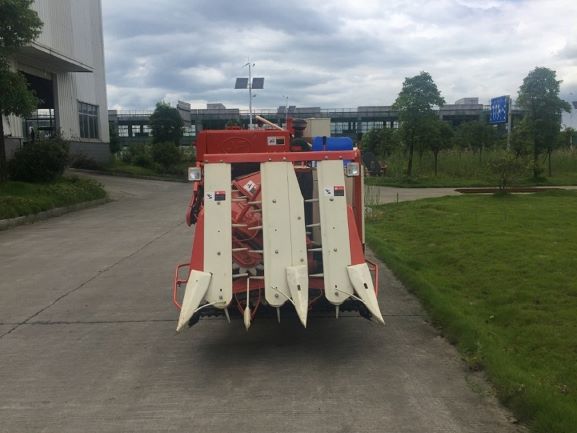 Semi-harvester for Agriculture Technical Parameters:

1. Size: 3650*1800*1820 (mm)

2. Weight: 1480KG

3. Engine Fuel: Diesel

4. Harvest numbers line: 3

5. Harvesting width: 1200 (mm)

6. Cutting height range: 50-150 (mm)

7. Threshing depth control system: Manually

8. Adaptation crop height: 650-1200 (mm)







If you have any questions, please contact us directly. Crawler tractor for agriculture are produced by Hunan Nongfu with high quality and good appearance.

welcome you can visit our factory for inquiry, please send mail directly to us.










Semi-harvester for Agriculture

China Harvester Machine, Rice Harvester, reaper machine, Agriculture equipment

Hunan NongFu Machinery&Electronic.Co., Ltd. , https://www.nfagmachine.com